Daily Harvest, the vegan food delivery service known for its ready-made shakes, bowls and tortillas, has just Reminds me of my French lentils + leek crumbs a meat substitute after several consumers reported serious health problems associated with its consumption.
Several people who ate the plant-based crumbs complained on social media, sharing that they experienced a range of gastrointestinal problems, including severe stomach pain, nausea, vomiting, and even liver damage.
In a Reddit thread with almost 150 comments, one user wrote that their wife was hospitalized after "developing symptoms consistent with severe liver problems—great fatigue, dark urine, fever, and itching all over the body without rash." BUT twitter user said he was hospitalized with elevated liver enzymes, fever, chills, back pain, jaundice, and had to have his gallbladder removed.
Other social media users shared similar storieswith some saying doctors were unable to determine the cause of their symptoms.
And don't miss that this Costco product is part of a massive peanut butter recall, the company says.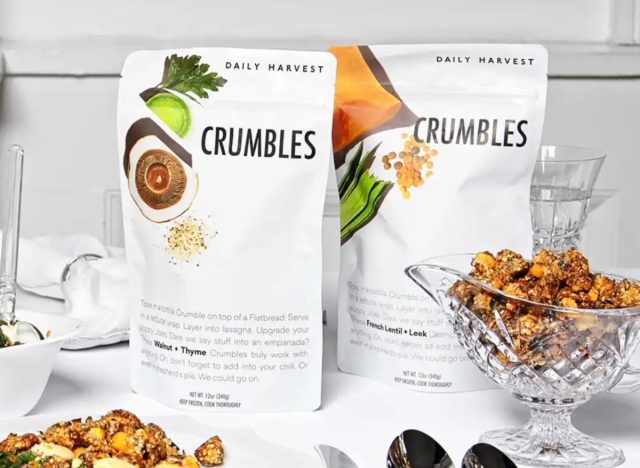 Lentil and Leek Crumbs, which launched in April, are currently on the Temporarily Out of Production list on Daily Harvest website.6254a4d1642c605c54bf1cab17d50f1e
In his latest announcement, the plant-based brand wrote that it has "launched an investigation to determine the root cause of the reported health issues." Daily Harvest also said it enlisted the help of the Food and Drug Administration (FDA), as well as microbiologists, allergists, and toxin and pathogen experts. According to Wall Street MagazineThe Food and Drug Administration (FDA) "refused to confirm whether the agency was investigating the Daily Harvest lentil and onion crumble."
"All pathogen and toxicology results so far are negative, but we continue to run extensive testing and will keep you posted," Daily Harvest wrote in a June 22 update.
On Sunday, NBC News reported that the food service sent an email customers on June 17, asking them to throw away the crumbs "out of precaution" and offering them a $10 credit for each bag of product purchased.
The Daily Harvest has since been criticized for its response to this question. In an Instagram post with a promotional photo of their walnut and thyme crumble, the brand vaguely noted that "an important message about our french lentil and leek crumble" can be found via the link in the bio. Users soon expressed disappointment in the brand's lack of transparency in the announcement of a serious health hazard.
"I seriously need to know what was going on in the mind of the daily harvest social team when they decided that the best way to make a FOOD POISON recall announcement was an ~aesthetic~ shot of bad food with a blurry caption directing subscribers to a link in bio!," said one twitter user.
The Instagram post has since been deleted, and another update was published yesterday.
Although the FDA has yet to issue an official recall, the Daily Harvest encourages those affected by file a report or email the brand at [email protected]. Customers will also receive refunds.
Brianna Rubak
Brianna is Associate Editor of Eat This, Not That! She attended Ithaca College, where she graduated with a degree in journalism and a minor in communication studies. Read more