Earlier this month, Dorchester hosted several Eastern Europeans for a US State Department program that offers organizers and interns a closer look at American democracy.
The initiative involves people from Romania, Bulgaria, Slovakia, Hungary and Albania, countries known for their history of repressive governments.
"They are struggling to rebuild their civil societies under disadvantaged conditions," said Lew Finfer, a social activist and Dorchester resident who hosted one of the interns.
The program, which has been in existence for more than a decade, is unique in that it focuses on social services and community organizing, as well as other topics focused on government and business leaders.
For Finfer, the program is personal: one of his grandparents was from Hungary, which he has visited three times since his organization, the Massachusetts Community Action Network (MCAN), began participating in the program. In total, 10 organizers from Eastern Europe have come to the US over the past decade, with a break in 2020 and 2021 due to the pandemic.
MCAN helps organizers find homes and host families during their month-long stay. Finfer himself hosted Zsuzsanna Gutard, who focused on voting initiatives and, in particular, increasing unemployment benefits.
While living in Dorchester, Gutar was attracted to the Red Line trolleybuses running from Ashmont station in Dorchester to Mattapan Square. She wrote an article for a Hungarian publication comparing the nearly 100-year-old trolleybus line to "a kind of street museum," a living piece of history that fascinated her.
Elona Jema of Albania, who has worked on elections and government corruption in her country, also stayed in Dorchester along with Sidney Hanlon, a former Judge of the Dorchester District Court and State Court of Appeals, and Pamela Pierce. Gema worked with Mark Wolf, a federal judge in Boston.
Another participant in the program, Loredana Pana from Romania, focused on environmental issues. She was placed in the Massachusetts Environmental League, an advocacy group, and Diane Gantman and Bob Weiss of Dorchester were her host family.
Pana had the opportunity to attend the Dorchfest Music Festival, an event that saw 45 bands play to a crowd in 25 driveways in Ashmont Adams on the eve of Dorchester Day.
"We don't have that in Romania, so it was a unique experience in the neighborhood," she said.
In her spare time, she played a touring role, one of the trips being a visit to New York City during Memorial Day weekend. "It was like a movie," she said.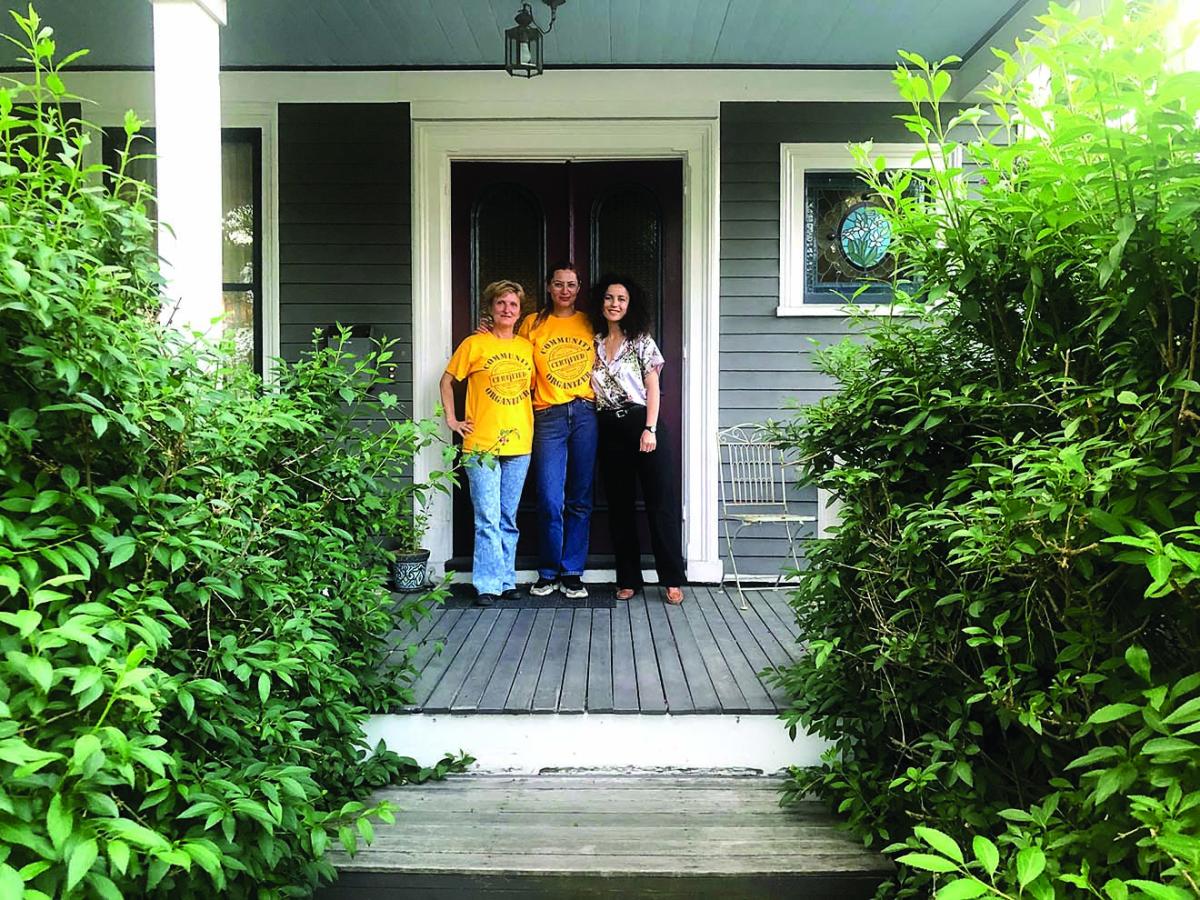 Left to right: Zuzanna Gutjar, Loredana Pan and Elon Shep at Lew Finfer's home in Dorchester.

Regarding Boston, Pana said, "Europeans consider Boston the most European city in the US. I don't know exactly why. I had a familiar feeling when I arrived here. People are walking, people are cycling. The city is so green and beautiful."
Speaking about her work with the Environmental League of Massachusetts (ELM), she said she likes the group's vision of conservation, intersecting with issues of affordable housing and voting.
Pana visited ELM offices three times a week as part of a hybrid work system due to the pandemic. She also met with officials from other organizations with similar views, such as Livable Streets and the Mystic River Watershed Association.
"All problems are interconnected," she said. "To have this perspective of finding common solutions, I think we need it in Eastern Europe. Because we are a poor country, and still a small one. We don't talk much about environmental justice communities in Romania."