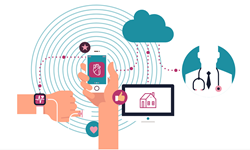 "Now more than ever, patients want to be treated at home," says Aarif Dahod, CEO of Accessible Home Health Care. "This WizeCare-powered solution is helping family physicians expand their use of remote patient access technologies."

CORAL SPRINGS, FL (PRWEB)
June 23, 2022
Affordable Home Health has launched an integrated healthcare platform powered by WizeCare to improve access for home doctors to diagnostic and predictive analytics tools. This solution will allow providers to improve the quality of care for patients receiving physical therapy and rehabilitation remotely.
Affordable Home Health and WizeCare will be able to provide healthcare providers with a broader range of remote solutions that provide continuous care, from prevention, accurate diagnosis and personalized treatment, leading to improved home care.
There is a growing use of home technology to reduce avoidable readmissions by coordinating medical support. The use of interactive applications provides real-time feedback to patients without the need for direct physician support. The goal is to empower patients by delivering augmented reality video sessions combined with sensorless MoveAI™ technology. Additional benefits include fall prevention for the elderly, early detection of diseases such as Alzheimer's, and predictive analytics.
"Now more than ever, patients want to be treated at home," says Aarif Dahod, CEO of Accessible Home Health Care. "This WizeCare-powered solution is helping family physicians expand their use of remote patient access technologies, especially in how physical therapy and rehabilitation is delivered."
The addition of WizeCare expands the range of Accessible Home Health Care technology solutions, including Accessible Remote Patient Monitoring and CareCaller™.
"We are committed to finding technology that adapts to the needs of clinicians and patients. Our solutions help home clinicians manage care for complex populations remotely, allowing patients to feel good from the comfort of their homes," says Mirella Salem, co-founder and president of Accessible Home Health Care.
About WizeCare

WizeCare is a team of healthcare professionals, innovative clinicians, business analysts and technology experts who are creating a new paradigm in rehabilitation medicine – a fully automated treatment process from admission to recovery. WizeCare is helping clinicians scale their natural abilities with AI, replacing the need for motion labs in physical rehabilitation.

With over 75,000 active patients to date, WizeCare's state-of-the-art technology offers personalized care plans delivered and monitored via any mobile device, analyzed with proprietary algorithms, leading to better results and faster recovery times. The company recently added fall risk detection capabilities for patients to perform at home to reduce non-fatal injury-related hospitalizations for seniors. To learn more, visit WizeCare.com.
About affordable home health care

Accessible Home Health Care, founded in 2001, provides compassionate home health care to support families and keep seniors safe in the homes they love. Affordable Home Health Care offers customized home health services, including Alzheimer's, Dementia, and Parkinson's, to help seniors maintain their independence, stay safe at home, and improve their quality of life. For more information about affordable home health care, visit the website https://www.accessiblehomehealthcare.com.
For available remote patient monitoring, visit https://www.accessibleremotepatientmonitoring.com.
Share the article on social networks or by email: